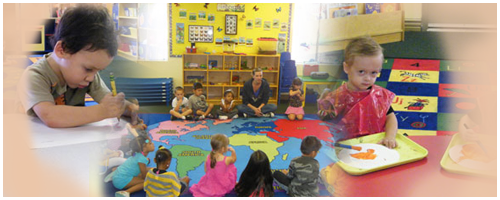 When choosing the right preschool in Corona, it's important to find a preschool with structured curriculum where your child can learn language arts, math, science and much more. In addition, your child needs an environment where he or she can develop important educational, emotional, and social skills. Sierra Preschool provides a fun and learning centered environment for all your preschool needs.
Educational, emotional, and social skills can begin early when a child attends preschool. These skills will benefit them for the rest of their lives and will be the building blocks for future higher level skills. Preschool is one of the first opportunities for a teacher structured environment. This introduces a child to the idea of respecting adults outside of their usual parental environment. It also teaches them to build relationships of trust with other adults. Preschool is also a wonderful opportunity for children to interact with other children and build early friendships. This skill will help and follow them throughout the rest of their life.
In addition to building friendships, preschool offers the opportunity for children to learn to share with other kids. This can teach them self-control as they learn to help others and deal with their frustrations in a safe way. Skilled teachers offer help to resolve issues between children while helping them understand the correct way to channel their frustration and move on. Preschool can often be a "team effort" between parents and teachers. The success of a child can increase when their parent and teacher are both on the same page. This can be in regards to goals, concerns, discipline, or any other area. Preschool also teaches your child at a young age the balance between work, rest, and play. Time is spent daily on learning but they also have time to rest and play. Our structured environment will benefit them for the rest of their lives.